From the 25th May 2018 the way in which all personal data will be handled by companies of all sizes is changing, thanks to General Data Protection Regulation (GDPR) being introduced across the entirety of Europe.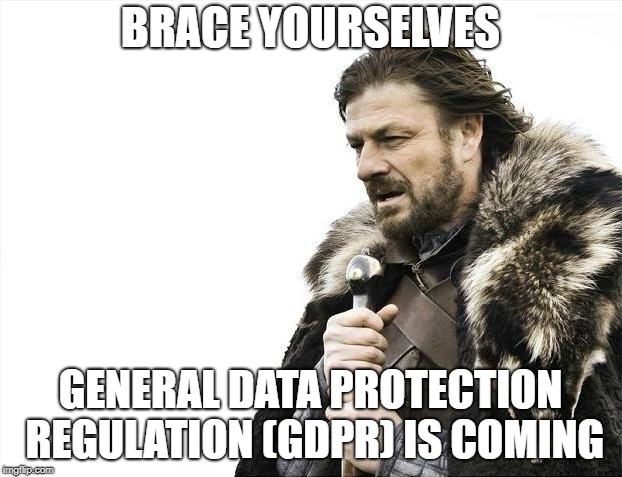 So, what is GDPR?
The General Data Protection Regulation (GDPR) is a regulation in EU law on data protection and privacy for all individuals within the European Union. It addresses the export of personal data outside the EU. The GDPR aims primarily to give control back to citizens and residents over their personal data and to simplify the regulatory environment for international business by unifying the regulation within the EU. When the GDPR takes effect, it will replace the 1995 Data Protection Directive.

It was adopted on 27 April 2016. It becomes enforceable from 25 May 2018, after a two-year transition period. Unlike a directive, it does not require national governments to pass any enabling legislation and so it is directly binding and applicable. Even though, due to "Brexit" the UK will not be a member state of the European Union for much longer, we are still bound by GDPR and the Government have confirmed that a "similar" directive will be implemented into UK Data Protection Law after we leave the Union.
How will GDPR impact me?
GDPR will effect everyone in the country, including those under 18 years of age. GDPR effects how everybody's personal data is handled and managed. On a day-to-day basis the main change you will experience is with regards to marketing emails. You know when you check your emails on a daily basis and see emails from your favourite manufacturers, local takeaway and special offer websites? If you don't sign back up to receive those emails before the 25th May, your inbox may become very quiet all of a sudden.
If you currently receive, or would like to receive our 'Scorching Offers' emails you will need to complete our sign up form through this link: http://eepurl.com/djTpdL
When will GDPR become effective?
GDPR will become effective across the entirety of the European Union on the 25th May 2018. A similar data protection will come into UK law following "Brexit", offering exactly the same protections for private individuals.
Why has GDPR come in to existence?
In 1980, guidelines were published for the protection of privacy and the flow of data across national borders. Both the EU and the US adopted the document and its principles, but they were never implemented consistently across industries. Levels of data protection varied greatly among EU member states, even after the 1995 Data Protection directive. It must be said that most of europe has been running much closer to these standards than the UK has in previous years, unsurprisingly including Germany.
Since 1995, the Internet has become a household item across a great deal of Europe, and combined with technological advances such as the advent of cloud storage and social media, the way data is processed and transferred has changed dramatically.
The rules needed updating, they needed to be uniform, and they needed to be applied more rigorously across national borders and industry sectors.
Would you like to learn more about GDPR?
In the UK, GDPR will be governed by the Information Commissioner's Office who unsurprsingly, have a mass of information on the subject which can be found here: ico.org.uk